Navigator Oil & Minerals, Inc., prospects for oil and gas and acquires oil properties in Kansas, Kentucky, Montana, North Dakota, Texas, West Virginia, and other oil producing states.  Currently, Navigator Oil and Minerals, Inc. is marketing the following interests:
Howard County, TX Mineral Acreage for Lease:
Unleased mineral acreage (2,132.88 Net/6,759.10 Gross) Wolfcamp A, B, and Lower Spraberry Zones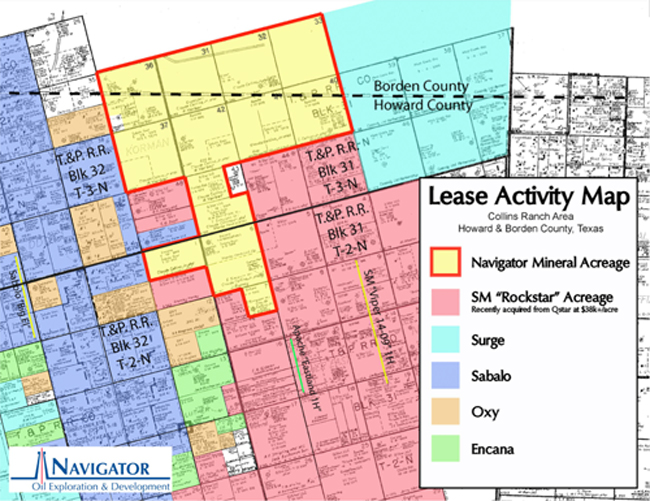 Navigator Oil and Minerals, Inc., et al, currently owns 2,132.88 net /6,759.10 gross acres over proven Wolfcamp A and B zones, with a prospective Lower Spraberry zone. All three zones are very comparable to the "Core Howard" pay according to petrophysical analysis. This acreage has come open as of February of 2017.
Please contact Spencer E. Blake for more information: sblake@navigatortx.com
Midland Basin, Blue Plate JVI I and II:
Navigator Oil and Minerals, Inc., RPC Operating, Inc., and it's partners are selling approximately 21.73% WI (75% NRI) in the Apache-operated "Blue Plate I" and "Blue Plate II" acreage of Northeastern Howard County, and Northwest Mitchell County, Texas.
The Blue Plate concept targets Unconventional Wolfberry along a productive Conventional "fairway" that includes pay from the middle Clearfork shoal/detrital reservoirs,Spraberry, Wolfcamp Turbidite/ Detrital, Mississippian, Cisco Turbidite Sands, Strawn and the deep Fusselman, located along the eastern Shelf Margin of the Midland Basin.
Blue Plate I and II consists of approximately 6,154 Net Lease Acres, all HBP by 51 Producing Wells and 1 disposal well currently producing 377 BOPD & 2,054 MCFGPD (8/2014). This acreage contains over 69 potential horizontal locations within the maturity limits of the Wolfcamp B and Spraberry formations.
The Blue Plate WI is being marketed through Simon Energy Associates, L.L.C. To view the Data Room, please go to www.simonenergy.com and request access.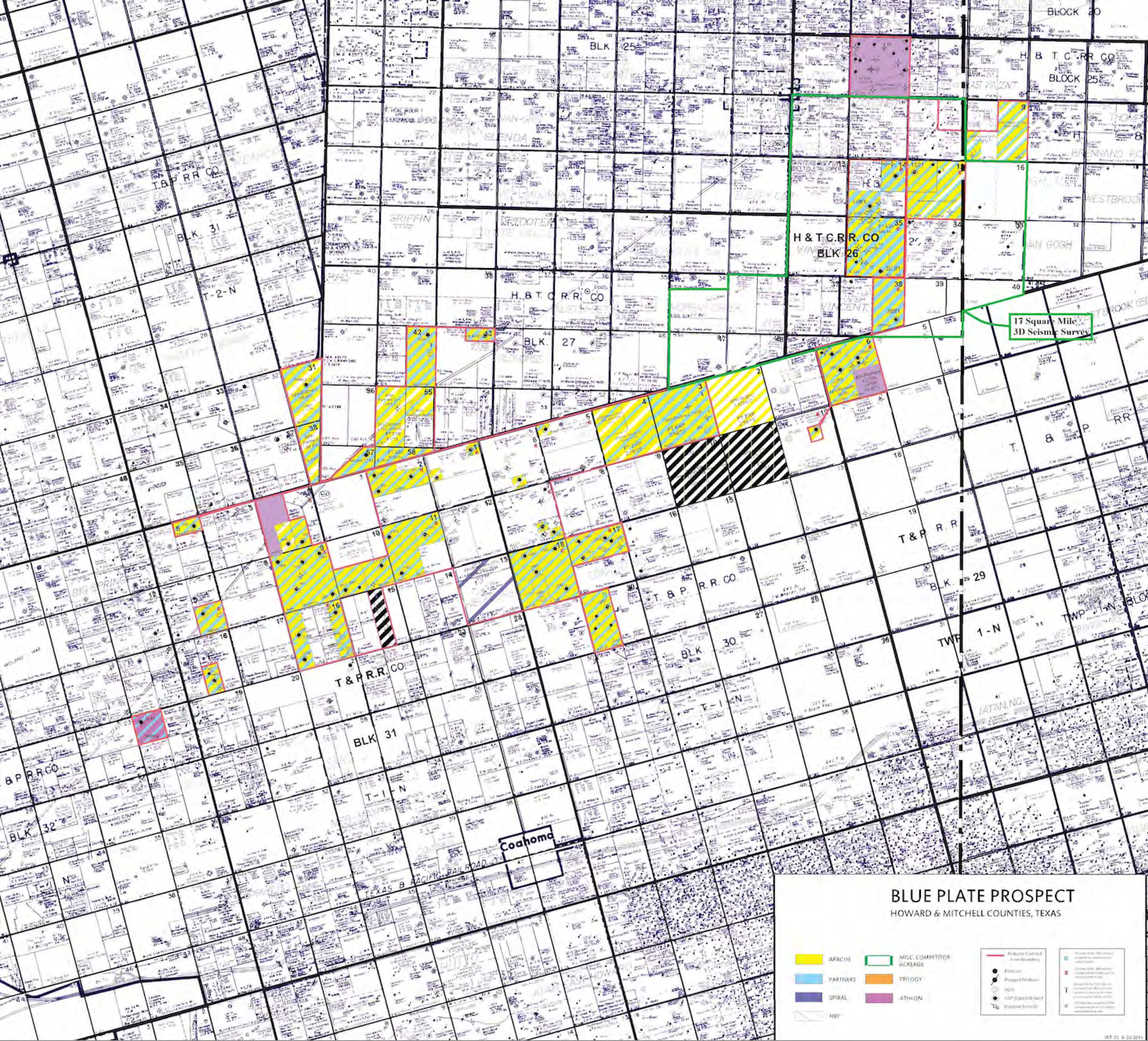 Key Map of Blue Plate Activity. Click above to view map.Click HERE for Full-Sized Map
Delaware Basin, Saragosa Prospect (SOLD):
Navigator Oil and Minerals, Inc., et al, currently holds 6,300 +/- Gross Acres (6,100 Net) in South Reeves County. This area has recently become one of the most active of the Delaware Basin's "Wolfbone" play with Forest's acquisition of approximately 65,000 acreas, Concho's position and drilling of their "Big Chief" horizontal well directly to the east, and Eagle's position sale to Comstock for approximately $345 million (just north of Navigator acreage).
This section of the Delaware Basin offers multiple targets, including Bone Spring and Wolfcamp sands/detrital. Our Geologic Cross Section across the area shows great potential.
Navigator and our partners are looking to sell 75% NRI and up to 100% Working Interest.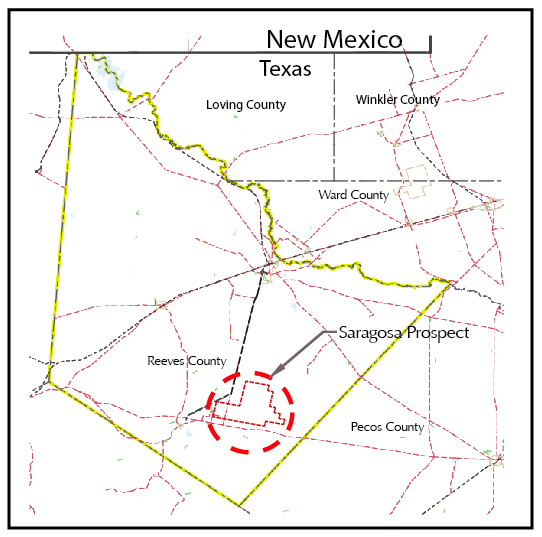 Key Map of Saragosa Acreage in Reeves County. Click above to view map.
If you would like more information about Navigator Minerals or Prospects:
Please contact Spencer E. Blake by phone at (432)682-9585
***Navigator Oil and Minerals, Inc.("NOM") has compiled this website information in good faith and believes the information to be accurate and reliable at the time the content was created. NOM makes no representation as to the completeness or accuracy therein. It is your responsibility to be aware that this information may be incomplete or out of date. NOM has no obligation and disclaims any duty to update or revise any of the site content however NOM reserves the right to add, modify or delete any information within this website at any time.
There are significant risks associated with investing in oil and gas ventures. The above information is for general purposes only and is not a solicitation to buy or an offer to sell any securities. Any such solicitation or offer will only be made through a private placement memorandum accomplished in accordance with SEC regulation D, Rule 501 and/or 506. Only accredited investors may participate in the drilling partnerships. In addition, the aforementioned general information is not intended to be individual tax advice. Consult your personal tax advisor concerning the current tax laws and their applicability and effect on your personal tax situation.
This website information is not intended to be used as the primary basis for investment decisions, nor should it be construed as advice designed to meet the particular needs of an individual investor. All offerings will be made through private offerings where permitted by law and accordingly, interested parties are required to inform themselves of and to comply with any such restrictions contained within their country of nationality, residence, ordinary residence or domicile for such acquisition. Before considering making any investments individuals are strongly encouraged to seek professional legal, tax, business and investment counseling plus inform themselves as to: Any foreign exchange control requirement which they might encounter on the acquisition or sale of investments The income tax and other tax consequences which might be relevant to the acquisition, holding or disposal of any investment. No Sale of any security is made in any state until such securities have been made the subject of a duly exempt transaction provision in any state in which such security is to be sold and a private Placement Memorandum is delivered to each offeree and is duly executed. Navoilandminerals.com is controlled by Navigator Oil and Minerals, Inc. from its offices within the State of Texas in the United States of America. By accessing this website, you and Navigator Oil and Minerals, Inc. agree that all matters relating to your access to, or use of, this website shall be governed by the statutes and laws of the State of Texas, without regard to the conflicts of laws and principles thereof.